Work on History of
Pakistan
---
Yahya Amjad's most monumental work is on the History of Pakistan. He published two books on Pakistan's history.
1: Tareekh-e-Pakistan (Qadeem Daur)
2: Tareekh-e-Pakistan (Wasti Ahad)
Read Now
About Scholar and Author
Yahya Amjad
---
Yahya Amjad (1943 – 1998) was a thoughtful and progressive critic, scholar, and writer. His most famous book is "History of Pakistan" in two volumes, which became extremely popular in academic and literary circles…
Read Now
Subscribe to Our
Newsletter!
---
Subscribe to our newsletter, so you can be the first to find out the latest news about different topics.
Enter your e-mail and subscribe to our newsletter!
Download Yahya Amjad's Ebooks for free

---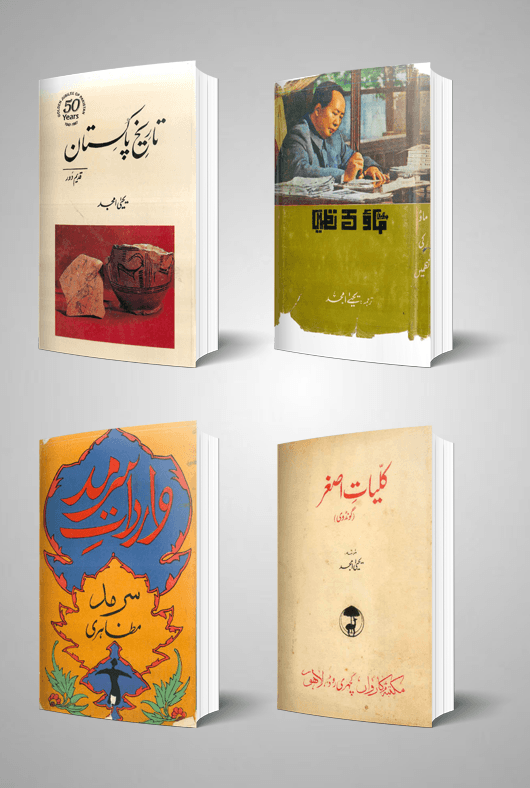 What People Say

---
Yahya Amjad was a quiet writer and poet. He belonged to Kundian, but he made a name for himself in Lahore as a writer, translator, and poet due to his creativity. He translated Mao Ze Tung's Chinese poems into Urdu. Apart from this, Niaz Ahmed published his works on various topics with great care. In these creations, the history of Pakistan is an incredible work in his life and is of historical significance.
Dr. Hassan Rizvi Daily Jang 3rd April 1998
Yahya Amjad was a poet, critic, and translator. And in all three positions, he has done an outstanding job. He had a keen eye for Urdu as well as contemporary literature in English and other foreign languages. His words and translations clearly show that he was a progressive, pro-people, and pro-social revolutionary thinker.
Amjad Islam Amjad Daily Jang 11 January 1998
Yahya Amjad's effort was even more praiseworthy because he was not a professional historian nor belonged to the insular world of the academia. Strictly speaking, he was an amateur who has been driven by his sheer love of knowledge and an urge to be more aware about the place that he belonged to.
Sarwat Ali The News on Sunday, February 08, 1998
Latest Posts

---
The Hiran Minar, located in the city of Sheikhupura in the Punjab province of Pakistan, is a unique historical monument that has captured the imagination of many. The tower lies in the heart of the city, and a beautiful garden surrounds it, making it a popular tourist destination. But what… Continue reading Hiran Minar-An Interesting History